Molluscum Contagiosum is a very common and contagious viral disease. The disease is spread by contact and can be spread on towels, clothing or items such as gym equipment and mats.
The primary, and often only, symptom of molluscum is the appearance of small flesh or pink colored bumps anywhere on the skin. The disease is contagious whenever the bumps are present on the skin. In an otherwise healthy person, 10 to 20 bumps are common.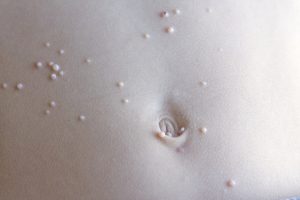 Treatment for molluscum varies on a case-by-case basis but may include:
Topical Medications: Various topical medications may be prescribed including retinoids, antivirals or dermatologically used acid
Cryosurgical Procedure: Liquid nitrogen is used to freeze the molluscum bumps
Curettage: A curette, which is a surgical blade, is used to scrape the bumps from the skin
Laser Surgery: A targeted laser beam is used to destroy the bumps
Our office has had much success treating molluscum contagiosum. Call to schedule an appointment if you need to have your molluscum treated.