Fungal Skin Infections, or Tinea, are very common. There are various types of fungal skin infections that may affect various areas on the body, such as the groin area, the feet, finger or toenails, the scalp or other parts of the body that are often warm or damp, such as within folds of the skin.
Some of the more common fungal skin infections include: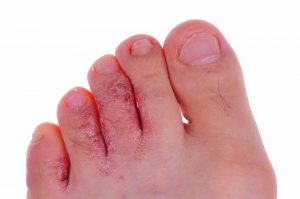 Tinea Pedis (Athlete's Foot): The most common type of fungal infection, it is spread by direct contact, most commonly through bare feet in bathrooms, pool areas or health clubs. Footwear, such as leather or plastic shoes that do not "breathe," encourages tinea pedis. Athlete's foot is most common in adults.  Adolescents who participate actively in sports may contract tinea pedis without proper foot care or if their footwear is not adequately dried in between usages. Symptoms of tinea pedis include the skin becoming white, soft and peeling away between the toes (especially between the fourth and little toes). Athlete's foot may infect the sole of the foot as well, resulting in peeling, scaling, itching and sometimes blistering. Either one or both feet may be affected.
Tinea Cruris (Jock Itch): Affecting men more often than women, tinea cruris is very common and is an infection of the groin area caused by fungus. Symptoms include itching in the groin or anus, or in the thigh skin folds, with red, raised, scaly patches that may blister and ooze. The affected skin patches commonly have sharply defined edges and may be redder around the outside with normal skin tone in the center, or may have abnormally dark or light skin. There are over-the-counter treatments for tinea cruris, but prescription remedies will most often work more quickly. With severe infections, frequently recurring infections or infections lasting longer than two weeks, it is advised to seek treatment by your doctor.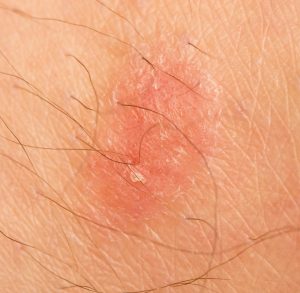 Tinea Corporis (Ringworm) and Tinea Capitis (Scalp Ringworm): There are many bacteria and fungi that normally live on the body. Occasionally, some of them may multiply and form an infection. Tinea corporis, or ringworm, occurs when a particular type of fungus grows and multiplies on your body. Ringworm is contagious and may be passed from one person to the next either by direct skin-to-skin contact or by contact with contaminated items. Ringworm also may be passed through items such as combs, hairbrushes, unwashed items of clothing, or shower or pool floors. Unlike many other infections, ringworm may also be transferred from a pet or animal that carries the fungus; cats are common carriers of the fungus. Tinea corporis is most common in children, although it can be contracted by someone at any age. When ringworm is on the scalp, it is called tinea capitis, or scalp ringworm. This usually occurs in children and may result in patchy hair loss and scaling. The scalp can look very patchy and show many areas without hair. If medical treatment is applied properly, most cases may expect hair to regrow normally and will not result in permanent hair loss.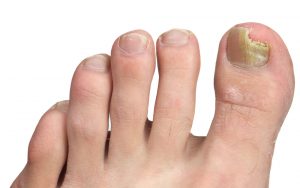 Nail Fungus (Tinea Unguium or Onychomychosis): Affecting the finger and toenails, this disease is commonly misunderstood and is unfortunately often left untreated. The fungi that cause toenail fungus are related to those that cause ringworm, athlete's foot and other common fungal infections. The nail plate can have a thickened, yellow or cloudy appearance. The nails can become rough and crumbly or can separate from the nail bed. There is usually no pain or other bodily symptoms, unless the disease is severe. These fungi can also be confused with other conditions, such as psoriasis of the nails and sometimes bacterial infections.
Yeast Infections (Cutaneous Candidiasis): Yeast infections of the skin are caused by yeast-like fungi called candida. They occur when yeast on the skin grows actively and causes itching and a red or scaly rash on the skin. Yeast infections may occur on almost any skin surface on the body. Candidiasis is by far the most common type of yeast infection in human skin. More than 20 species of candida exist, the most common of which is candida albicans. These fungi live on all surfaces of our bodies and only occasionally cause infection. Various types of candida yeast infections are possible, including diaper rash, infections of the nail, oral thrush (a form of candida infection that is found in the mouth), and vaginal yeast infections.
The typical symptoms of a yeast infection include:
Rash
Patches that ooze clear fluid
Pimple-like bumps
Itching or burning
Swelling, pain or pus in the nail beds or a white or yellow nail that separates from the nail bed
White patches on the tongue and inside of the cheeks
Pain in the mouth and on the tongue
White or yellow discharge from the vagina
Vaginal itching or burning
Redness in the external area of the vagina
We have many options for the treatment of the various types of fungal infections of the skin. If you have or suspect you have a fungal infection, please be in touch so that we may help you get rid of the infection and get back to your healthy skin life!